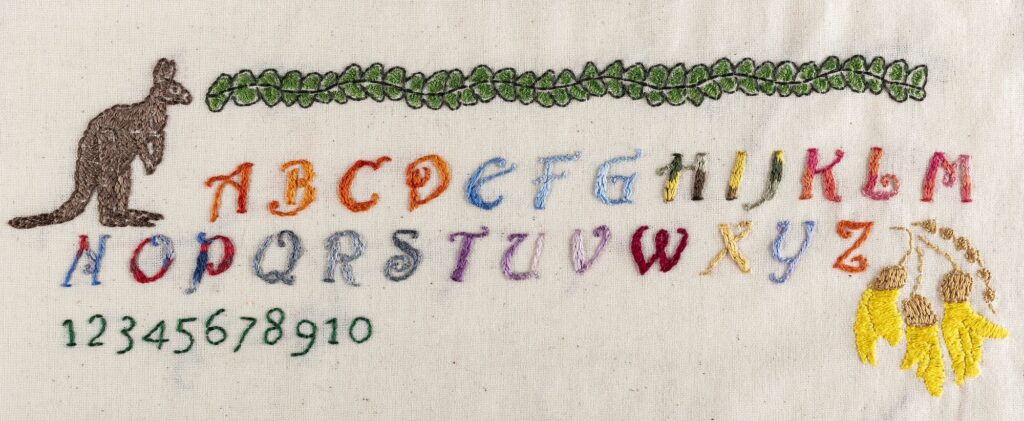 It's likely that my great-great-grandmother Elizabeth was taught to embroider as a child. Embroidery was seen as an important skill in the mid-nineteenth century, and missionaries brought it to Aotearoa/New Zealand as a 'civilizing' tool to teach Māori women and children. I decided to stitch Elizabeth's and my stories side by side, using a traditional sampler format but also breaking some of the rules. In Elizabeth's time embroidery was a way of showing that girls were obedient—they never would have sworn!
Letters, numbers and symbols are common on traditional samplers. I included the kangaroo because I now live in Australia, and kowhai flowers, a heitiki and kiwi, along with a koru design. I stitched my iwi (tribes); Ngāi Tahu, Ngāti Mamoe and Waitaha (former iwi incorporated into Ngāi Tahu), and Pākehā (European New Zealander). I embroidered a Māori saying; He aroha whakatō, he aroha puta mai—if you give kindness, kindness you will receive. I kept the 'modesty mark', where Victorian women would use an asterix rather than disclose their year of birth, as this was considered a 'private matter'.
Elizabeth and Christine sampler was nominated for the 2019 Victorian Craft Awards.